hehehehe strike that we don't have any daffydils as my daughter used to call them what we do have instead is butterflies or as I call them Flutterbuts heeh those that know me will know how much I love my butterflies others that know me will also know that I say that a butterfly is an angel in disguise for those that don't believe but hey thats just me what ever you believe I love them.
I was asked why I called myself Kissedbyawhisper soooo I thought I would tell you all why..
As you know from what I wrote here I adore flutterbuts, some years ago I was working in my garden and along came a butterfly and I stopped my work and watched her flit amongst the plants stopping here and then stopping there, I watched this little butterfly for what seemed like hours  as she went about her business of collecting nector from my flowers in fact I was almost envious that she had the gentleness to land on a flower without even moving a petal... anyway after a while the butterfly decided to fly away and I was a little upset to think my diversion to my weeding had come to an end, sometime later she came back but this time to my amazement she landed on my face... whoohhoo I have never felt anything so soft yet something that caused me to have goosebumps.
A few days later I was trying to think of a Yahoo ID when I remembered that butterfly and thinking about her made me think that I had been Kissed by a Whisper soooooo Kissedbyawhisper was born .. see told you I am really a big old soft romantic and romance doesn't just have to be about love and all that heartache either....
Anyway Butterflies
Set 1 including the greyscaled version ok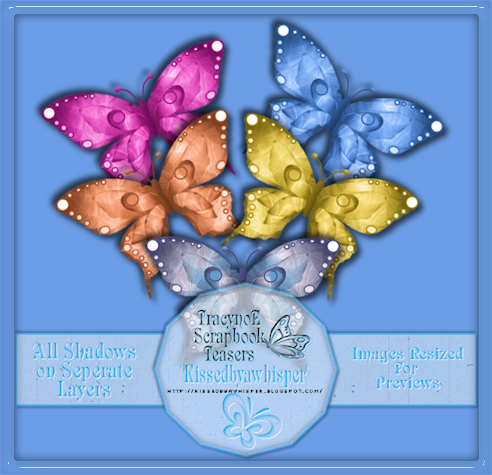 Download HERE
Huggers Tracy